SUCCESSFUL
Female ID: "Lillith"
Female's Last Molt: 6/2010 (unsure of exact date)
Male ID: "Mephisto"
Male's Ultimate Molt: 6/2010 (unsure of exact date)
Female is housed in an ExoTerra small cube with dry substrate and a water dish. This enclosure was designed by her previous owner. She has taken up residence in a pile of large rocks in one corner of the enclosure. She is kept in our spider room at ground level through all the events in this report. Temps are at 75-77, with ambient room humidity at 72% avg.
It should also be noted that this female is very old for the species (est. 5-7 years of age or better). We learned this from her former owner shortly after pairing her. Had we known she was this old, we probably would not have bred her.
Prior to pairing, the female was fed rather heavy (6 adult crickets 2x/week) beginning 7/3/10. Last fed on 8/6/10.
MM introduced into enclosure 8/7/10. Male was relentless in courting female, and 2 brief pairings were believed to be witnessed (it was hard to discern since most of this went on in the rock pile). MM was left to co-hab with the female.
8/8/10: Female's burrow entrance into the rocks is webbed over, and MM is no where to be found. "Crunching" noise can be heard coming from the rock pile. MM is assumed to be consumed at this point.
Continued to feed the female rather heavy (at least 6 adult crickets weekly). No sign of her being noticeably gravid or doing any type of nesting behavior. Female was returned to normal feeding schedule (4 adult crickets every 2-3 weeks) around mid-March, 2011 since no sac had been produced, and we noticed crumpled up pieces of orange legs in the back of the burrow (we assumed she had molted).
5/7/11: Female begins tearing down all the webbing in her burrow, and completely "cleans" it out. What we initially thought to be a molt turned out to be remnants of the MM that weren't previously disposed of. That, along with substrate and webbing are tossed outside the burrow.
5/17/11: Female begins re-webbing her burrow and completely lines all sides and bottom with silk.
5/19/11: Female is seen guarding a sac!
6/26/11: Sac pulled. Rough estimate ~100 1st instar slings.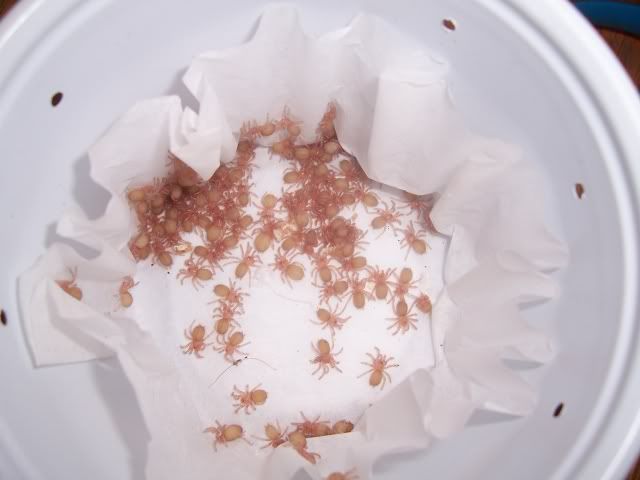 7/11/11 - 7/13/11: Slings molting to 2nd instar
7/16/11: Slings separated and housed into individual vials. 92 total 2nd instars. 3 slings were found dead post 2i molt.

_________________
Jen Newman, LVT
Heartland Invertebrates


Due to technical difficulty, this is a new account - but the same opinionated user! Take that spam bots!!